19/06/2015 20:00 - 2:00
At 20:00 will begin the concert warmed-up by folk band from London "Austrumkalns". At 22:00 will start the concert of Latvian band "Astro'n'out".
PLACE: CENTRO GALEGO, "La Tentation", rue de Laekensestraat 28
ENTRANCE: 15 EUR (free of charge for ELKS participants)
To avoid crowding and to guarantee the entrance to the concert, we invite you to reserve a place by filling out this FORM, and if necessary, make a membership fee!
London based Latvian folk group "Austrumkalns" was formed in 2011 by four, third generation Latvians born in England. Having grown up together in London, sisters Linite and Andra Zobens-­‐East and Anna and Laila Grinberga, decided to create "Austrumkalns" as an outlet for their love of Latvian folk music and songs.
The music "Austrumkalns" plays has traditional elements and principles, but the girls develop their music using modern instruments and arrangements. "Austrumkalns" have three percussionists who interchangeably join them for concerts:Welsh percussionist Hannah Beynon, Jēkabs Zariņš who is well known in the London Latvian community for his experimental kokle playing and Tomas Svilāns, a London based Canadian Latvian.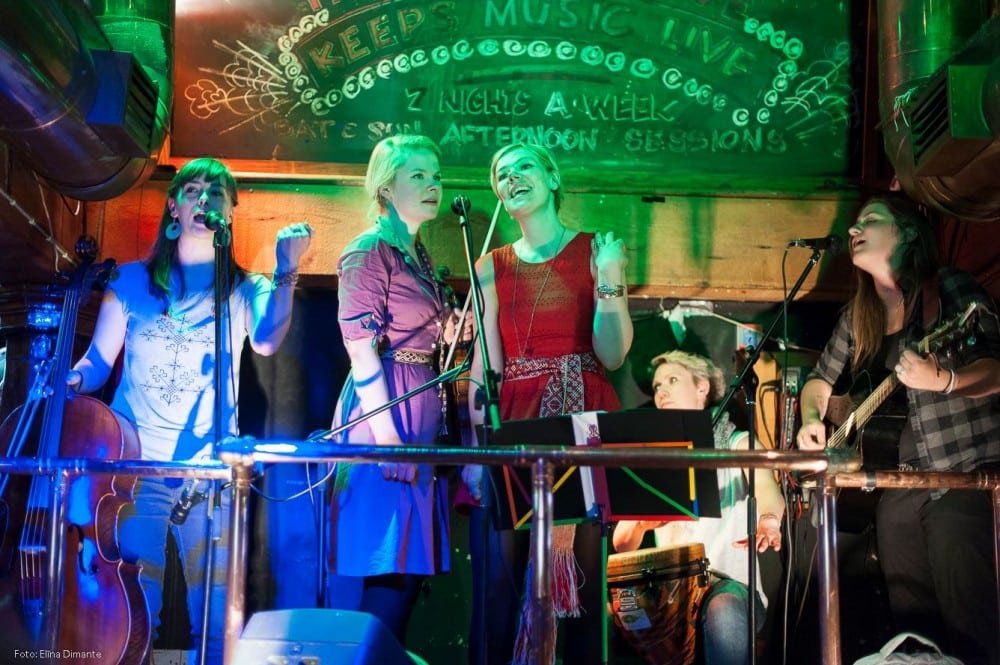 Astro'n'out are quite a big deal in Latvia. The Riga-based quintet first exploded on to Latvian radio back in 2003 with a song about one of Riga's shadier districts. Since then they have gone on to hysteria-inducing levels of success. With the striking vocal of Mara Upmane-Holsteine at their core, they are one of the most instantly recognizable acts to come from Latvia. During ten years Astro'nout had released four albums in Latvian and English languages and toured around Latvia, several European countries and China.