18/06/2015 20:00 - 23:00
Opening evening of European Festival of Latvian Culture. The event will be followed by concert of folk band from London "Kokļu Zapte". At 22:00 will begin the concert of Imants Ziedonis Foundation "Viegli" from Latvia.
PLACE: Galego centre, hall "La Tentation", rue de Laekensestraat 28
ENTRANCE: 15 EUR (free of charge for ELKS participants)
To avoid crowding and to guarantee the entrance to the concert, we invite you to reserve a place by filling out this FORM, and if necessary, make a membership fee!
The band "Kokļu Zapte" has been mentioned in history books since spring 2012 when Baiba asked Aivars if he can teach her to play kokle. It was in the annual London Latvian Choir evening when playing Kalnu dziesmu (Mountain Song) Aivars inspired a couple of choir members to learn to play kokle, or in some cases to start again.  These enthusiasts meet up before choir rehersals in London Latvian house bar, at someone's home or if the weather is good in a park, improvising or playing their favourite Latvian traditional songs. Good company, well tuned kokles and splendid Latvian beer is the recipe for the perfect Zapte (jam). Improvisation is is the key element in this band that allows total beginners and experienced kokle players to join and have fun.
https://soundcloud.com/piekuns
https://www.facebook.com/zapteee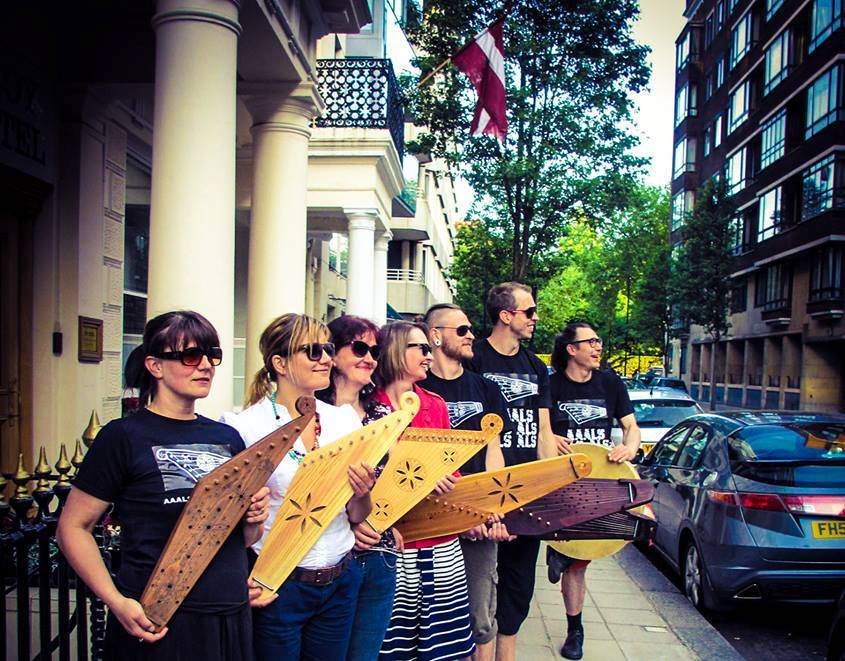 Imants Ziedonis Foundation "Viegli" was established in the spring of 2010 with the aim to pursue the mission dear to the patron of the Foundation, poet Imants Ziedonis, – "Latvia is an incredibly beautiful land, but such beauty needs help to shine."
The Foundation promots and implements the ideas and values of Imants Ziedonis, continues to support creative and unusual ideas, and organizes public projects that reveal the beauty of Latvia.
To date, the Foundation has released two song albums featuring the lyrics by Imants Ziedonis and melodies composed by musicians Renārs Kaupers, Māra Upmanes-Holšteine, Jānis Holšteins-Upmanis, Jānis Strapcāns, Raimonds Gusarevs, Jānis Šipkēvics and Kārlis Kazāks. The album "Viegli", released in 2010, was greatly appreciated. Following its success, Imants Ziedonis Foundation "Viegli" released its second album "Vakars.Pietura.Jasmīns."
In cooperation with the European Latvian Song Festival in Brussels, "Viegli" will perform the most beautiful of the Foundation's songs with lyrics by Imants Ziedonis.
(www.fondsviegli.lv/Vakars-Pietura-Jasmins)
More about Imants Ziedonis Foundation "Viegli": www.fondsviegli.lv.